COMMITMENT TO ART
Giosetta Fioroni: Italian Pop art's silver surfer
Now in her eighties, the only female member of the School of Piazza del Popolo is riding a wave of popularity. The cool, chromatic restraint of her canvases, characterised by the use of silver enamel paint, makes her work appear more contemporary than ever – and auction prices are on the rise
28/02/2018
The Italian Pop artist Giosetta Fioroni had to wait an awfully long time for international recognition – but now, at last, as an octogenarian, it's coming to her.
This decade, she has had first solo exhibitions in both London and New York (at Partners & Mucciaccia and the Drawing Center respectively). A major exhibition of her work from the 1960s has also just closed at the Moscow Museum of Modern Art. Fioroni was even invited by the fashion house Valentino to collaborate on its Fall 2014 collection.
Prices for her art have shot up, too. Not so long ago, owners didn't sell because there wasn't a market. In 2014, the highest price one of her works had fetched at auction was £10,000. In April 2017, after the sale of her painting Interno familiare at Christie's Milan, that figure reached £74,000.
Who exactly was Giosetta Fioroni, though? Why is she important? And why, after such long neglect in the 20th century, is she suddenly hot property in the 21st?

"Giosetta Fioroni (Roma 1932) Untitled,
1957 oil on canvas, 69,5 x 50 cm
Intesa Sanpaolo Collection"
Born in Rome in 1932 to artistic parents (her father a sculptor, her mother a painter), Fioroni found fame in the 1960s as one of the 'School of Piazza del Popolo', essentially Italy's answer to Pop art. She was the only woman in a group that also included Mario Schifano, Tano Festa, Mimmo Rotella and Franco Angeli (the school taking its name from the Roman piazza in whose cafés its members gathered).
Apart from Schifano's use of the Coca-Cola logo in certain works, Italy's Pop artists drew for subject matter not so much on everyday consumer goods, as their American peers did, but on specifically Italian cultural references.
Festa, for example, found endless inspiration in Michelangelo's Creation of Man scene on the ceiling of the Sistine Chapel. Meanwhile, in 1965's Detail from the Birth of Venus, Fioroni riffed – with a close-up of the eponymous goddess's face – in schizophrenic fashion on Botticelli's masterpiece.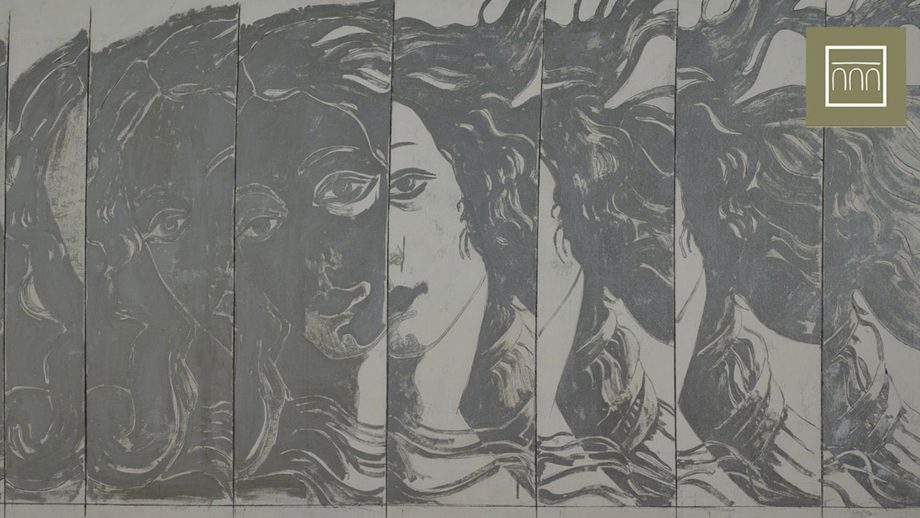 This work forms part of Intesa Sanpaolo's stellar collection of modern and contemporary Italian art and also features in 101/900, a new publication cataloguing 101 of the bank's best works from the 20th century.
For Festa and Fioroni, Renaissance iconography was as familiar to them – as Italians – as Campbell's soup cans were to Americans (Andy Warhol's inspiration for perhaps the most famous Pop work of them all).
Another key difference was that where in the US, Pop artists adopted mechanical techniques such as screen-printing, the Italians by and large stuck to working by hand. In Fioroni's case, she enjoyed working in monochrome and is renowned for her use of silver enamel paint.
This gave her art a ghostly feel or, as she herself put it, a "dreamy rhythm" – her subjects made to resemble a "remembrance resurfacing from far away", albeit one that looked as if it could disappear again at any moment. Her fondness for adding modest pencil marks to her work merely accentuated the sense of impermanence.
Talking of impermanence, Fioroni – though she continued working – largely faded from view in the 1970s. By then, Italian art had become synonymous with the Arte Povera movement rather than Pop and moved on.

"
In 1965's Detail from the Birth of Venus, Fioroni riffed – with a close-up of the eponymous goddess's face – in schizophrenic fashion on Botticelli's masterpiece
"
"Giosetta Fioroni
(Roma 1932)
Asciuga ali, 1995
iron, 183 x 130 x 80 cm
Intesa Sanpaolo Collection


"
As for her return to prominence this decade – Fioroni is experiencing a level of international acclaim not managed even in her Sixties heyday – this can be put down, in part, to the fact that most Italian post-War art has seen a surge in prices recently. Held for a long time in high critical esteem, this work has belatedly piqued the interest of collectors, too.
In the particular case of Pop, there has been a growing appreciation that it was a movement of international reach (rather than almost exclusively American, as had previously been argued) – with Italy one of its most vibrant hubs. In 2016, Mimmo Rotella became the first Italian Pop artist to have a work break the million-pound (as well as the million-euro) barrier at auction.
One suspects that, as the unique female voice in the School of Piazza del Popolo, Fioroni will see her stock rise a great deal further in coming years.
She referred to silver as a "non-colour" and her repeated use of it makes Fioroni's Pop canvases look – half a century on – arguably more contemporary than ever. Their cool, chromatic restraint complements the white-walled art galleries and minimalist modern homes of the 21st century.
"
Her fondness for adding modest pencil marks to her work merely accentuated the sense of impermanence
"
And then there are her subjects. Most often, they were actresses or female models, whose image Fioroni adapted from fashion and lifestyle magazines. Today they manage to inspire nostalgia for a glorious bygone era of fashion and film – the Sixties – when stars retained an alluring enigmatic beauty behind the luscious lashes and dramatic eyeshadow.
However, by concentrating on her subjects' faces and capturing little in the way of clothing or background, Fioroni also ensured they exude what we might call an ethereal and timeless beauty. It's hard to imagine them ever going out of fashion.