Everything you need
No surprises
Instead of interest you pay a fix monthly fee of 25 Lei
Single limit
The card has one single limit 5000 Lei
Always in control
You decide your own reimbursement rhythm for the used amount
Simplicity at its best
If you want more benefits in a easier way, then Lider package has the right balance.
You get a current account, debit card and internet banking in one single package, plus discounted rates for transfers.
Transfer at least 300 Lei/month in your Intesa Sanpaolo Romania account and get the package's monthly fee discounted by 50% (3 Lei/month).
Fees

Comision unic

25 Lei / month

Suma minimă de plată

5% plus integral taxe, comisioane și dobânzi

Monthly administration fee for Lider package is 3 Lei if at least 300 Lei have been transferred to your current account during the previous month, otherwise the monthly management fee is 6 Lei/month.
Card de credit Mastercard în LEI, cu limita unică de 5000 LEI
Pănă la 45 de zile (o lună și jumatate) perioadă de grație atât pentru plăți la comercianți, cât și pentru retrageri de numerar
Dacă ai nevoie de cash, poți retrage suma necesară de la bancomat
Poți solicita până la 2 carduri suplimentare pentru cei dragi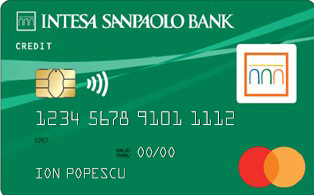 Visa Inspire debit card
0% fee for shop payments in Romania and abroad

0% fee for online payments

Contactless - payments under 100 Lei without PIN

Este înrolat în standardul de securitate 3D-Secure, pentru plăti online în deplină siguranță. Poți autoriza plățile direct de pe telefon folosind aplicația Card mToken.
What else you need to know
Loan usage
Loan usage
The money will be transferred into your Intesa Sanpaolo Bank current account. You can use your existing current account or opt for a new account opening.
The loan amount can be either by keept and used from the current account, cashed-out in any Intesa Sanpaolo branch, transferred to a product or service provider according to your instructions (when you want to buy a car, for example) or transferred to other bank's account (if refinancing other loans).
The loan disbursement transaction is free of charge.
Loan repayment
Loan repayment
Please make sure the instalment amount is available in the loan account at payment due date. If you chose to have your income in an Intesa Sanpaolo Bank account, then you don't need to transfer the instalment amount in the loan account - we will debit your salary account automatically at payment due date.
We encourage you to choose a payment due date as close as possible to the date at which you get your monthly income into the account, so the loan repayment can be made automatically.